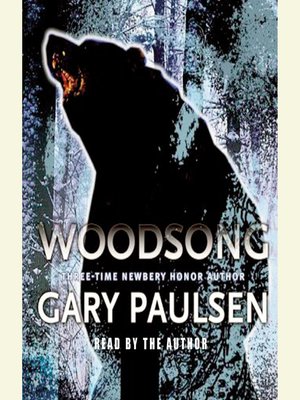 Today's Learning Objective
Recognize imagery and its effects
Warm Up: 'The Circuit' Quiz

Today you will take a short quiz to demonstrate some of what you learned from the story "The Circuit". You can find the quiz here. If you complete the quiz early, you may silent read or take A.R.

quizzes

until the rest of your classmates are finished.
Build Background:
Woodsong
Today we begin reading from Woodsong, a memoir by Gary Paulsen. Remember that a memoir is an example of nonfiction similar to an autobiography because it's a self-told life story, but it tends to be shorter and more focused on certain events. A memoir is essentially a writer's description of his or her own memories.
Gary Paulsen is one of America's most popular writers for young people. Although he was never a dedicated student, Paulsen developed a passion for reading at an early age. After a librarian gave him a book to read — along with his own library card — he was hooked. He began spending hours alone in the basement of his apartment building, reading one book after another. As a writer, he is best known for coming of age stories about the wilderness. Watch the brief video below in which Pauslen discusses his early life and the craft of writing.
Paulsen often writes about his own life in the wilderness of Minnesota, as he does in Woodsong. Wild animals, such as bears, were a part of Gary Paulsen's everyday life. Study the 'Build Background' text and map below to understand more about the place that serves as the setting in Woodsong.
Guided Reading:
Woodsong
Now we will begin reading from an excerpt of
Woodsong
by Gary Pauslen. You can find the reading selection

here
.
As we read our job is to pay special attention to
Paulsen's use of imagery. Remember that words that appeal to the the reader's five senses are called imagery. Imagery helps readers visualize and imagine how a person, place, or object, looks, feels, sounds, tastes, or smells. Gary Paulsen uses a variety of descriptions to help his words come to life.
You will use document Imagery - Woodsong (located

in your Language Arts Google Classroom

) to record the examples of descriptions in Woodsong that appeal to the senses. This assignment will be

due

on Friday,

November 20

.